The ESAO XXXIX in Rostock
Photogallery
Welcome address
On behalf of the European Society for Artificial Organs (ESAO), it is our great pleasure to invite you to the XXXIX. ESAO Congress to be held in Rostock (Germany), September 26th – 29th, 2012.



Rostock is a prospering and easy-to-reach hanseatic city directly located at the Baltic Sea coast. The venue of the ESAO 2012 congress is the Academy of Music and Theatre, which resides in an old monastery in the city centre. Rostock is home to one of the oldest universities in the world: founded in 1419.



The motto of the ESAO Congress 2012 will be

"from replacement to regeneration – from science to clinic".



We will provide a clear programme structure by highlighting one special organ system each congress day: heart/cardiovascular, liver and kidney. Above all the congress programme integrates aspects of both basic science and clinical development with a clear focus on translation and clinical practice. We intend to prepare an excellent and exciting congress by inviting outstanding experts and by giving young and promising clinicians and scientists the opportunity to present their work. Especially for young scientists there will be one day for yESAO activities. Industry symposia, a poster exhibition and an industrial exhibition will complete the congress programme. 



We kindly ask the ESAO community to support the Rostock congress by sending interesting abstracts for presentations and for the poster exhibition: Online abstract submission will start in February 2011. 



We are looking forward to seeing you in Rostock 2012.

Sincerely, 

Prof. Dr. med. Gustav Steinhoff

Congress President
EACTS

3rd EACTS Meeting on Cardiac and pulmonary regeneration, 14-15 December, Berlin, Germany
We also like to invite you to the EACTS 2012 in Berlin
more here!
Congress Booklet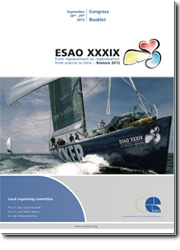 Congress booklet as download-PDF [5.0 MB]
Scientific Direction

Prof. Dr. med. Gustav Steinhoff

Prof. Dr. med. Steffen Mitzner

Dr. med. Wolfgang Ramlow
Contact
This email address is being protected from spambots. You need JavaScript enabled to view it. 

This email address is being protected from spambots. You need JavaScript enabled to view it.
EACTS
3rd EACTS Meeting on Cardiac and pulmonary regeneration, 14-15 December, Berlin, Germany


We also like to invite you to the EACTS 2012 in Berlin
more here!